About Us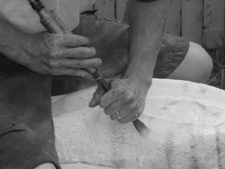 Christopher Cleary is a 4th generation Vermonter who began exploring stone as a child while accompanying his father on stone masonry projects. In his early twenties, Chris discovered his talent for sand carving while working for his father's stone business, and honed his own technique with training at the West Rutland Carving Studio. Before long, he decided to become self-employed and started doing business as On the Rocks.
Chris uses a process called sand carving, along with traditional stone carving tools, to create designs in stone. Sand carving is one way to precisely etch stone with intricate detail, and is achieved by propelling a sand-like substance onto the surface of the stone. Chris' work is unique in that his designs are drawn and manually cut into a single-use rubber overlay. He favors this method because it lets him to draw freehand before carving, so that each design ensures an exceptional one-of-a-kind product. Furthermore, it allows for close attention to detail and depth as he carves.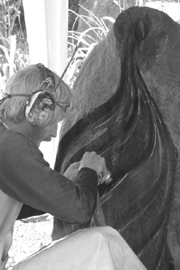 Chris explains, "each piece shares the story of time and nature. The work is constantly evolving, as I am always experimenting and exploring with properties of this medium. I enjoy attempting to capture the beauty within a stone and complement it in a natural way. No two stones are ever the same, yet they all speak in a consistent language. I never tire of this work because with the varied clientele and subject matter, I just never know what to expect from day to day. This creates a certain stimulating mystery which I have grown to enjoy."
Chris is a member of the Vermont Hand Crafters and the Vermont Crafts Council. His work has appeared in art shows and galleries throughout Vermont, and is held in private collections on four continents. Permanent installations of his work can be found at St. Michael's College (Colchester, VT), Wake Robin (Shelburne, VT), and NRG Systems (Hinesburg, VT).
Chris currently lives in historic Jericho Center with his wife, Kim, and their two sons, Finnegan & Sawyer, where he's been "rockin' it" since 1999. He designs and carves full-time at his home-based studio and sculpture garden. Visits by appointment are always welcome.